FREE SHIPPING ON ORDERS OVER $69.00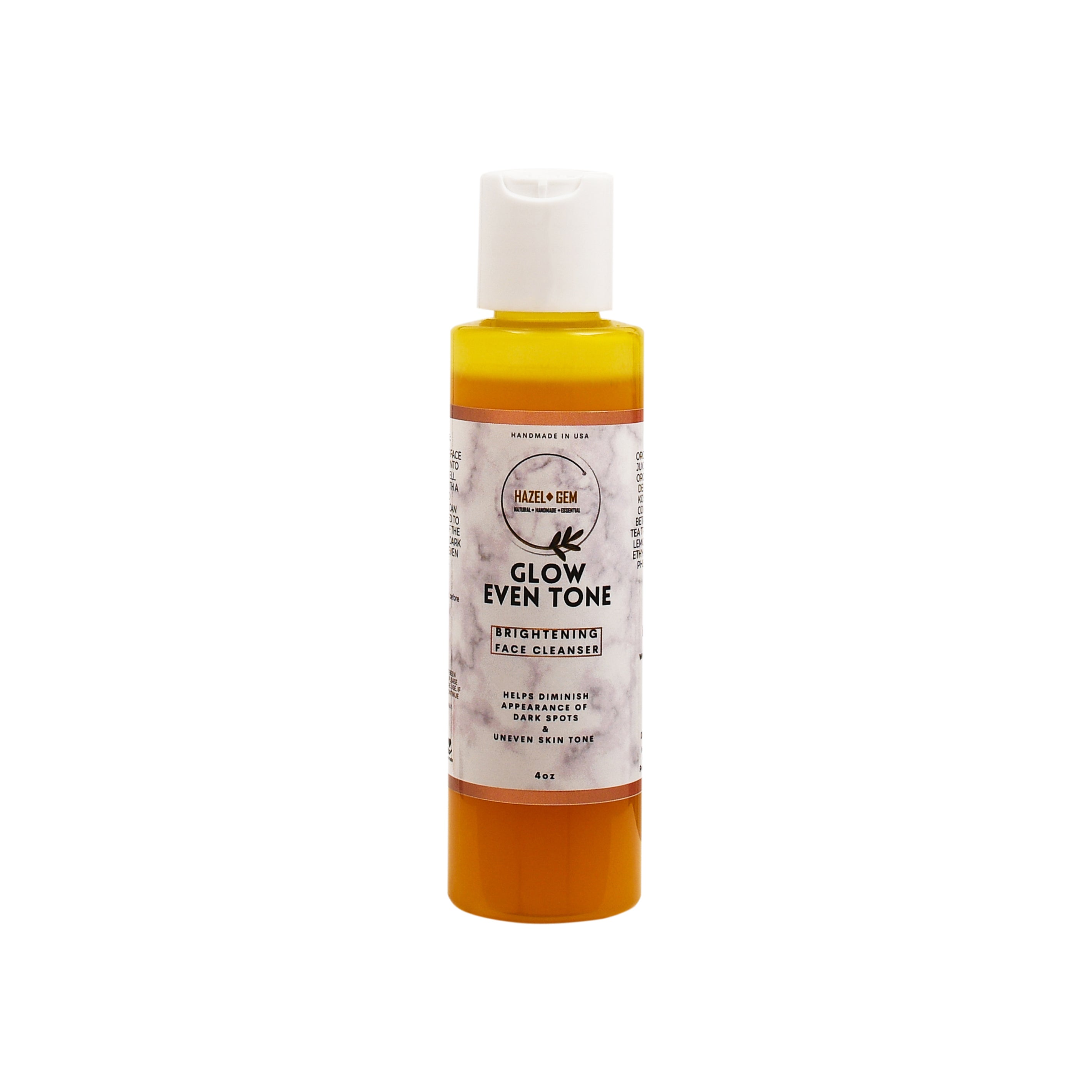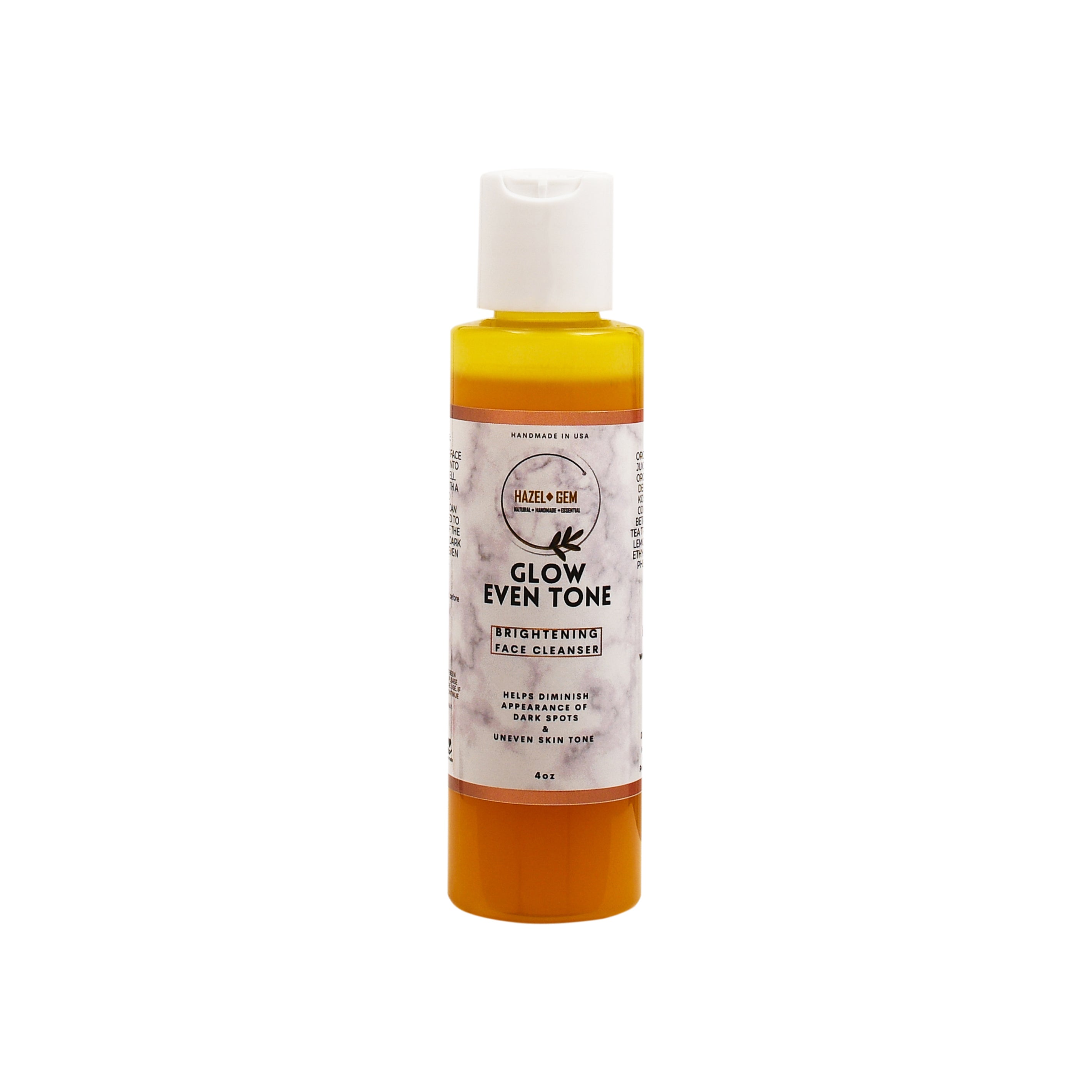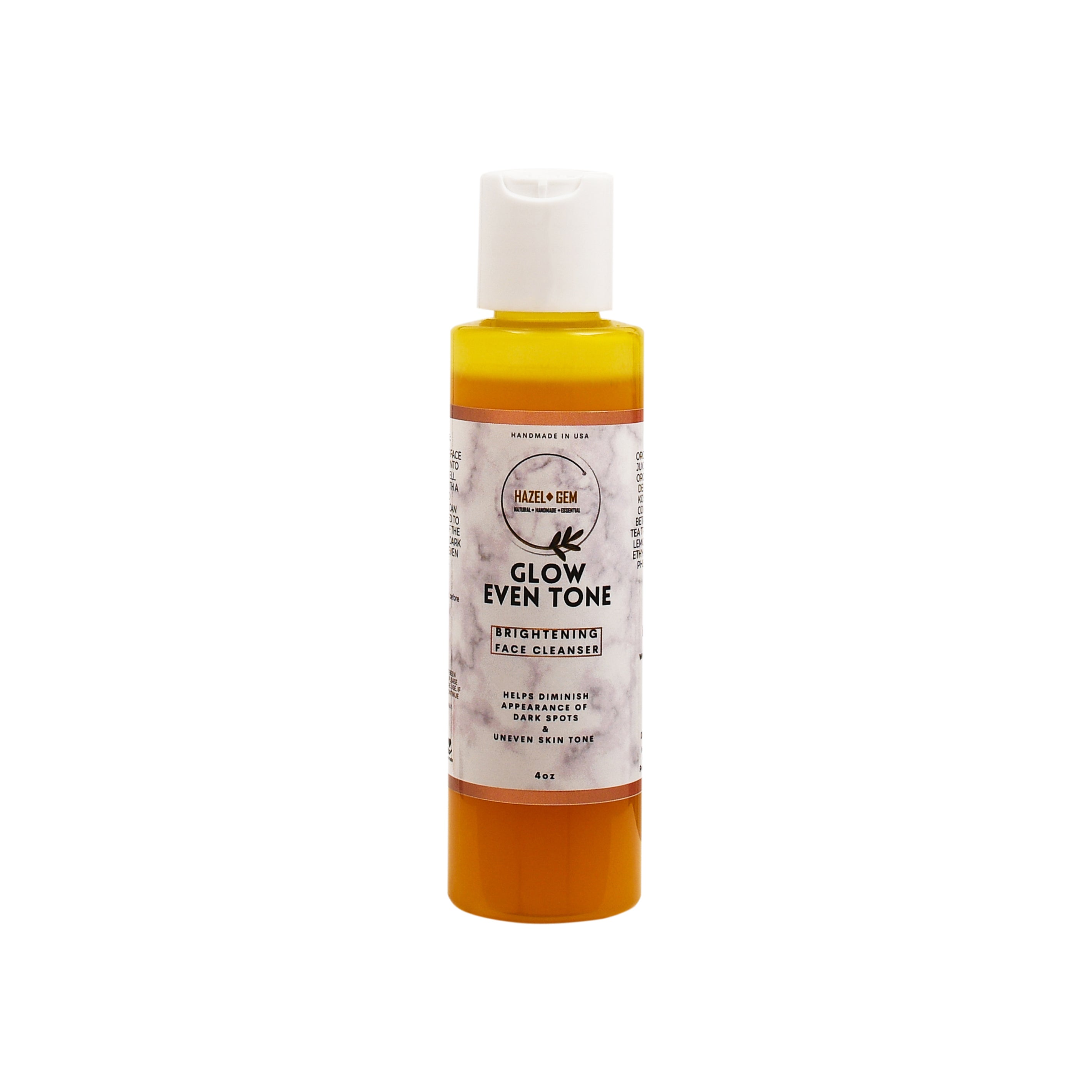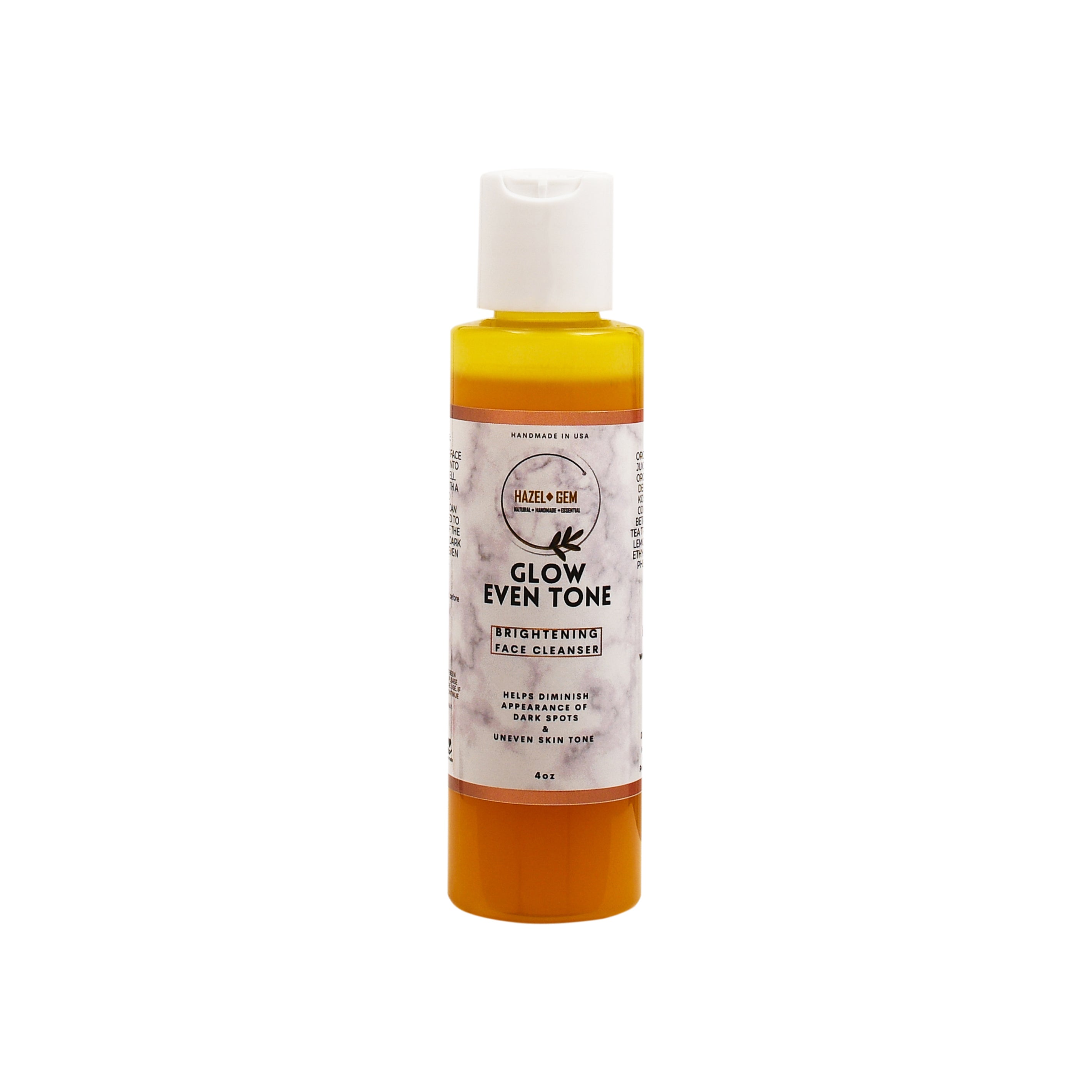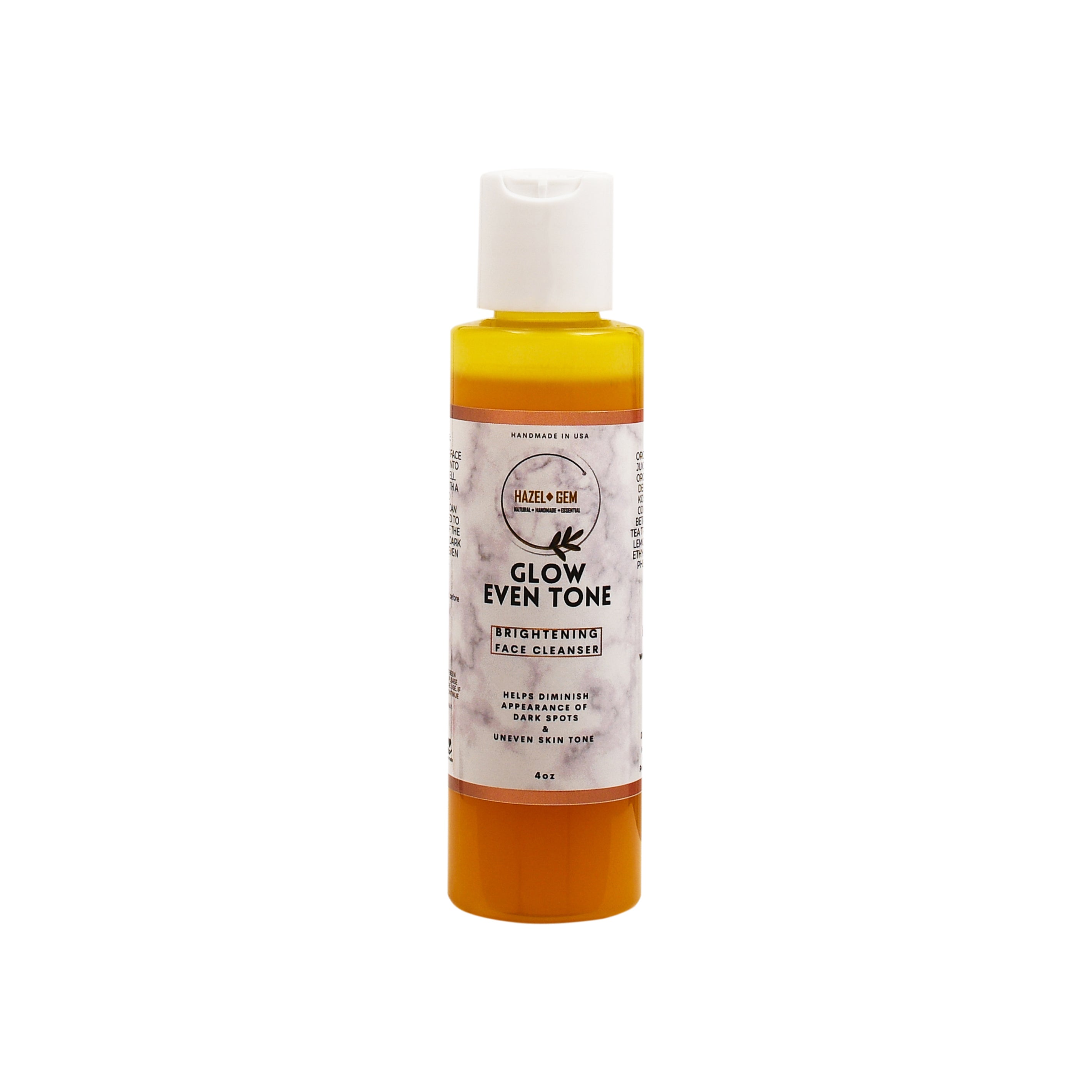 Glow Even Tone Face Cleanser
BENEFITS:
Aids in Brightening Areas of Hyper-pigmentation on Face
Reduce Acne and Scars
Anti-Inflammatory
Can Also Be Used to Help Diminish Appearance of Dark Spots on Bikini Area, Under Arms, Elbows & Knees 
INGREDIENTS:
Organic Aloe Vera Juice, Shea Butter, Organic Turmeric Powder, Glycerin, Decyl Glucoside, Kojic Acid, Cocamidopropyl Betaine, Tea Tree Essential Oil, Lemon Essential Oil, Ethylhexylglycerin, Phenoxyethanol
4.2oz
Shelf Life: 12 Months 
TURMERIC MAY STAIN WHITE WASH CLOTHS AND WHITE TOWELS, BE SURE TO RINSE WELL 
(COLOR MAY VARY FROM LIGHT YELLOW TO DARK YELLOW DUE TO THE USE OF THE NATURAL HERBS WE USED. THIS DOES NOT AFFECT THE PRODUCT NOR INDICATE A CHANGE OF OUR FORMULA)
DIRECTIONS:
Apply to damp face and massage into skin, rinse well (Avoid eyes) Follow up with a toner and moisturizer of your choice. Can also be applied to other parts of the body that have dark spots and uneven skin tone. (If you have sensitive skin we recommend you perform a patch test and use 2-3 times weekly and not daily)
FOR EXTERNAL USE ONLY
This product has not been evaluated by the FDA, consult physician before use. If irritation occurs discontinue use 
Excellent
This product has my face feeling so good and clean . I highly recommend it
Affordable and effective product
I have suffered with hyperpigmentation for quite some time now however, ever since I started using this cleanser my dark spots are starting to fade. Giving me a even skin tone. Great clean product.
A product of the product!!!
I use to get dark spots on my face and would not like the way my skin looked..I started using this product
consistently and started to get compliments from friends and family about face...This product helped me get that glow..It's no joke
Had to get 2!
Sooo I def. Had to get two this time around cause this cleanser has seriously saved my face! Not only does my man use it now aswell but it has actually helped keep my rosacea flare ups to a minimum. It has really worked wonders helping me manage these new skin problems I'm having in my 30s! Best cleanser ever!
Glow Even Tone Face Cleanser
I really love the products because have super sensitive skin and I am unable to apply certain products to my face. However, with this cleanser I have used it daily and I already seen an improvement. I am about to purchase the entire collection.