Everything You Need To Know About Eczema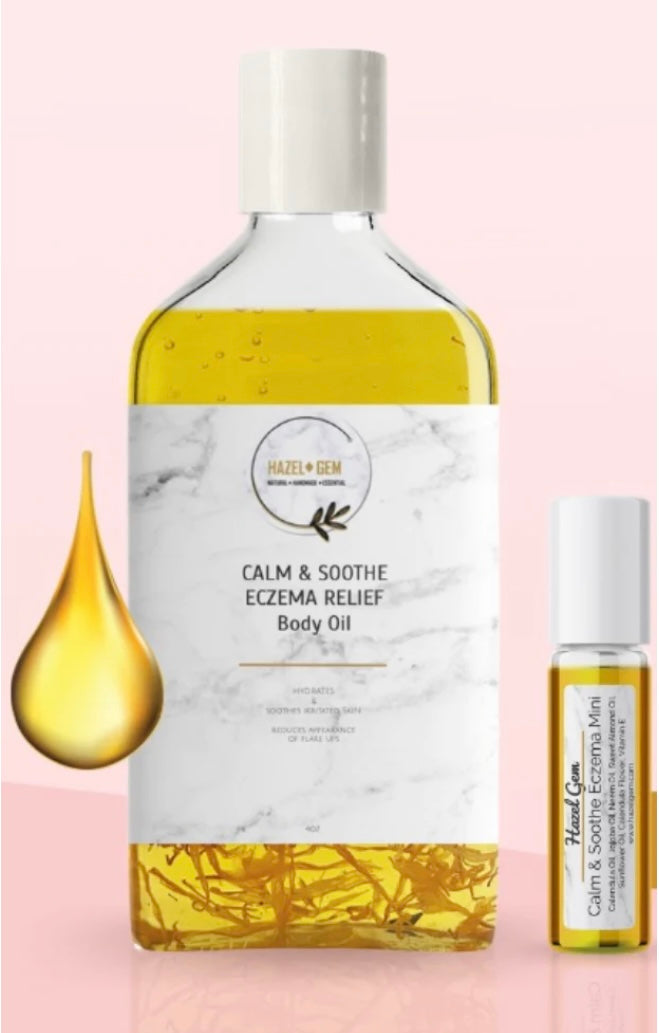 Everything You Need to Know About Eczema & How to Treat It
For many people, eczema is one of those annoying things that can last for years without any relief. If this sounds all too familiar, know that you're not alone! In fact, eczema is more common than you may think. Over 30+ million Americans deal with eczema every year. If you're one of those people, keep reading to learn all about this skin condition and how to treat it at home.
What Is Eczema?
Eczema is a skin condition that causes patches of skin to feel dry, bumpy, red, and itchy. Eczema is a type of skin dermatitis which is an umbrella term for common skin irritation. Like other dermatitis conditions, eczema can harm the skin's barrier which means the skin will have a harder time retaining moisture leading to dryness and irritation.
Eczema can affect anyone of any age so it's not uncommon for it to develop even as an adult. It's also extremely common with infants and babies but many will grow out of it within the first few years of their lives. While anyone can have eczema it does occur more frequently in people who have a family history of it, deal with seasonal allergies, or suffer from asthma.
Eczema can occur anywhere on the body but it's most common on the hands, neck, face, elbows, ankles, and knees. There are a few different types of eczema that may impact how it looks or feels. While symptoms of eczema can look different on everyone, it typically presents itself as red, itchy, flaky patches of skin that are extremely dry. It can be isolated to a small area on the body or span a wider range.
What Causes Eczema?
For most people, eczema is caused by an overactive immune system. Put simply, eczema is similar to seasonal allergies. When your body comes in contact with something in your environment that your immune system doesn't like, it kicks into fight mode. Turning on your immune system like this can cause inflammation in the body which results in eczema and flare-ups.
Although this is a common reason for eczema, there are certain triggers that can cause flare-ups or make them worse. Make sure to keep these factors in mind while dealing with flare-ups.
Soaps, facial cleansers, and other body products that contain harsh ingredients, preservatives, or fragrances may dry out the skin and make your skin even drier. Opt for a more natural body care line

Exposure to high heats, dry air, or freezing temperatures can also dry out skin and cause eczema to become worse.

Laundry products with harsh chemicals and fragrance can rub up against the skin and result in flare-ups.

Dust mites, dirt, mold, and pollen are a leading cause of allergies and eczema.

For some people, specific fabrics such as polyester or wool can irritate the skin making it worse.

Certain metals (typically nickel) found in jewelry and silverware can also cause irritation. If you do wear jewelry often, make sure it doesn't contain nickel to avoid triggering your eczema.
Tips to Soothe Eczema Flare-ups
While it may seem like every little thing can trigger eczema, there is good news! Eczema can be treated with medicine prescribed by your dermatologist however, if you can't see a doctor or would prefer to treat it naturally, it can be done from home!
Use a body oil that targets eczema relief: Body oils with the right ingredients can be a lifesaver during eczema flare-ups. The Hazel Gem Calm & Soothe Eczema Relief Body Oil was formulated with five natural oils targeted to relieve eczema. This body oil can help hydrate the skin, reduce itching, and lessen the appearance of eczema flare-ups on the skin. It's made of a blend of calendula, jojoba, sunflower, neem, and sweet almond oils to provide intense moisture and calming effects. The Calm & Soothe Eczema Relief Body Oil also contains vitamin E which is known to reduce inflammation of the skin making it the ideal ingredient for eczema relief. It's available in a larger size to keep at home and a small travel-size to go with you to the office, gym, or anywhere else you may need relief on the go! Simply apply the body oil to affected areas daily and go about your day!
Apply a cool compress: Cool temperatures are known to reduce inflammation which makes it the perfect treatment for eczema. Simply wet a clean washcloth in water and pop it in the fridge or freezer for a few minutes. Apply it to the affected area to help soothe itching and any pain. Follow up the cool compress with some of your eczema relief body oil for the best results.
Try acupuncture: It may sound different, but acupuncture can be extremely effective for people with eczema. Acupuncture targets nerve function which can reduce the feeling of itching or pain as a result of skin conditions. Additionally, acupuncture can help lower overall stress levels (which is another trigger of eczema!) This may be a more expensive option but it can be useful for people suffering from long lasting eczema.
Adjust your diet: You may roll your eyes at the people that tell you, "you are what you eat" but it's totally true! While your diet won't cure or completely clear up eczema, it can help reduce the chance of flare-ups. Try to incorporate a lot of anti-inflammatory foods into your diet such as fatty fish, bone broth, berries, leafy greens, and honey. Avoid processed foods, dairy, and refined sugar as much as possible.
Exercise regularly: Working out might not be the first thing you think of when it comes to treating eczema, but it can actually make a huge difference in your skin. Eczema can severely flare-up when you're stressed out. And while it's not always easy to remove stress from your life, exercising regularly can help do just that! Working out releases endorphins in the brain which helps to calm anxiety and stress. Try doing low-impact workouts such as walking, yoga, or pilates to get your body moving and reduce stress levels.
If you aren't sure if you have eczema or are unsure how to treat it, try chatting with your dermatologist to figure out the best course of action for you.